In the growing digital landscape, but especially in the last one and a half years during the pandemic, there is a visible shift from meetings in person, at the office, to working remote more often and using digital applications like Zoom to stay in touch. Understandably this means that we noticed an increase in questions if and how it's possible to integrate video conference software into your SuperSaaS calendar.
In this blog we will explain the possibilities to integrate Zoom and provide a step by step guide on how to set this up. In addition, we will give you some alternative video conference apps that can be used in combination with SuperSaaS.
There are two options to integrate Zoom with SuperSaaS. Which one is best for you depends on your needs and personal preferences.
Option 1: Using your personal meeting ID
The easiest way is when you use your Personal Meeting ID, which is given to you by Zoom and directs anyone using this to your Personal Meeting Room. The ID is always the same and therefore doesn't require any adjustments before sending it to a customer for an appointment. This means that you can share this same information with everyone.
A quick and easy way to make sure that all your customers receive these details, is by adding them to the confirmation email and/or reminder email that is sent by SuperSaaS. Of course, in order to use this it's important that you have email confirmations enabled and collect the customers email address during the booking process.
In the Configure menu, you go to the Process tab and make sure that email address is required for each reservation.
On the same tab, you can find the setting to send confirmation emails. Here you select the last option: 'Always send a confirmation, optional for superusers and the administrator.

When you want to send a reminder email to your customers before their appointment as well; you can find this setting just a little bit below.

Now we have made sure that emails are being sent to the customers, we move to the Layout tab where we can create custom messages. You will probably want to add your Zoom details to both the confirmation and reminder emails, just in case.
This is fairly simple. In Zoom you can 'copy invitation' so you have all details at hand, and decide yourself which information you want to share in the emails.
Any information entered here, will be added to the generic email that is being sent by the system, so you can be sure that all of your clients receive this information. If you want to fully customize your own email and write your own message, please have a look at our blog about personalizing emails.
Because you are using the same meeting room for everyone, you might want to schedule a buffer time in between meetings as well. This way, when one customer logs in a bit early, they won't interrupt your still ongoing meeting with another customer. In addition, Zoom has a waiting room feature that you could enable.
Option 2: Using webhooks for a more advanced set-up
A more advanced setup, where Zoom can automatically create new (unique) meeting rooms for every meeting, can be achieved by using webhooks. Webhooks are one of a few ways web applications can communicate with each other. It allows you to send real-time data from one application to another whenever a given event occurs. They can be configured manually or, when you don't have as much programming knowledge, using pre-made workflows from Zapier.com or Integromat.com. For the purpose of this blog we will focus on the latter and use the pre-made workflows from Zapier; the Integromat process will be very similar.
You will need to create an account on their site before you can set up a webhook with SuperSaaS. Zapier and Integromat both offer a trial version and a free tier for small users.
On your dashboard, select 'Make a Zap' to start creating a webhook.
Step 1: Set a trigger
Select app: In the search window, type SuperSaaS.
Trigger event: This is the action that starts the webhook. In this case, it can be either 'reminder or follow-up' or 'new appointment', depending on when you want the meeting to be created in your Zoom account.
Select your SuperSaaS account (synchronize SuperSaaS if you haven't done this yet).
Select for which schedule in your account you want to set up the webhook.
If you have selected 'reminder or follow-up', it will ask you which of these two actions is going to be the trigger. In most cases this will be the reminder (follow-up only works if you have set this up as a second reminder.)
Step 2: Set an action
Select app: In the search window, type Zoom.

Action event: This is the action that is performed when the webhook runs. In this case, you want to create a meeting in your Zoom account.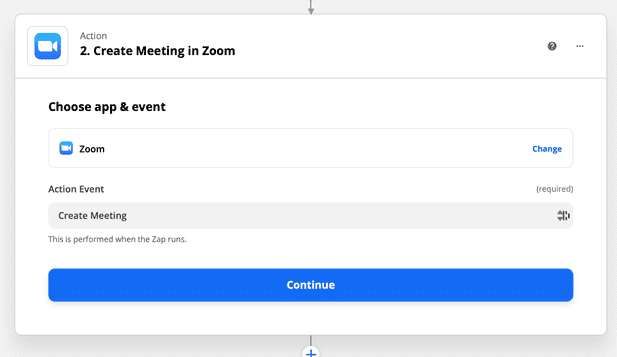 Select your Zoom account (synchronize Zoom if you haven't done this yet).
Set up action: Here you fill in the details of the Zoom event that is to be created, for instance a topic, time zone and/or duration.
Test and continue.
Turn on zap.
Your webhook is now ready and working. You can switch it off and on as you please. Do note that when you activate this webhook, the reminder message from SuperSaaS will no longer be sent. Instead, it will create a meeting in your Zoom app.
You may also want to email your users with the Zoom information. This can be done by adding an additional action step to the webhook. However, to create a webhook with more than one action you will need a paid plan.
Step 3: Set an action
Select app: In the search window, type Mail by Zapier.

Action event: You want to send an outbound mail.
Set up action: This step allows you to create the email that is going to be sent to your user. The system can take data from the appointment to generate the email, similar to auto text. This allows you, for example, to address users by name or send them specific appointment details.
To send the Zoom link, you will want to make sure that 'Join url' is added to the body.
Test and continue.
Turn on zap.
From then on, Zapier will automatically create a new meeting in Zoom and then email your customer with the information, ensuring they have all the details they need.
An alternative option for this step would be to set up the follow-up email in SuperSaaS as a second reminder, so your customers will still receive an email with all information.
Are there any alternatives?
Of course. To name just a few: MS Teams, Amazon Chime, Skype, Google Hangouts. Any video conference software that provides you with a personal meeting ID/url can be used with SuperSaaS, by following the personal meeting ID steps as described in this blog.
With these steps you will be able to successfully set up your video conferencing meetings! Don't hesitate to reach out to our support team if you have any additional questions in regards to the above instructions.
Learn more about how to run successful remote meetings.